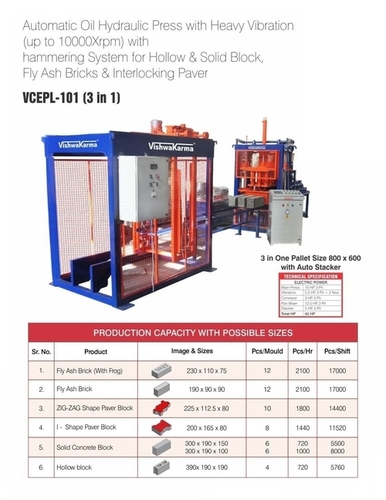 Automatic Oil Hydraulic Press
Product Code : 10
Product Description
Automatic Oil Hydraulic Press with Heavy Vibration:-

For Fly Bricks at a time 10 pcs.
Technical specification
Unique Function of auto Pressing. Feeding & Ejection.
Platform Size : 600 x 600 mm approx
Users Friendly Operating System.
Safe Working Conditions with PLC based control panel
The Pressing operation is PLC controlled with single switch operation for pressing feeding & ejection ensuring uniform pressure on all sides of pavers
Production Capacity : 15000 to 20000 nos Fly Ash Brick in 1 Shift (12 Hours)
Oil Cooling System Facilitate to cool down oil even press is working.
Oil Tank Capacity : 400 Litres approx
Power Required : 28 to 32 HP
No skilled labor required
Automatic Oil Hydraulic Press with Heavy Vibration:-

For Fly Bricks at a time 10 pcs.
Technical specification
Unique Function of auto Pressing. Feeding & Ejection.
Platform Size : 600 x 600 mm approx
Users Friendly Operating System.
Safe Working Conditions with PLC based control panel
The Pressing operation is PLC controlled with single switch operation for pressing feeding & ejection ensuring uniform pressure on all sides of pavers
Production Capacity : 15000 to 20000 nos Fly Ash Brick in 1 Shift (12 Hours)
Oil Cooling System Facilitate to cool down oil even press is working.
Oil Tank Capacity : 400 Litres approx
Power Required : 28 to 32 HP
No skilled labor required
Contact Us
Behind Sukhramnagar, Nr. Government 'G' Colony, Post: Rajpur-Gomtipur, P.O. Box No. 5017, Ahmedabad, Gujarat, 380021, India
Phone :+917042467254